Gutter Repair
Maryville, TN
Searching for Maryville Gutter Repair Near Me?
Have you been on the hunt for Maryville gutter repair near me? If you're in need of gutter repairs, Gutter ON is the name you can trust for all gutter repairs and maintenance. Our gutter leak repair services are affordable, convenient, and fast. We will make sure that your gutters are repaired to the best of our abilities, and we will repair your gutters in a way that you can still get more life out of them. 
Gutter Leak Repair Maryville, TN Residents Trust
Has it been a while since you've cleaned your gutters? Gutters should be cleaned on average at least twice a year and more if you live under a lot of trees. However, gutters are often neglected until there's an issue. When gutters are neglected, they begin to fill up with debris like acorns, pine needles, leaves, dirt, twigs, nests, and more. When the heavy debris piles up, it can clog your gutters which can cause leaks, landscape flooding, sagging gutters, and more. If these issues are addressed in a timely manner, it can result in you prematurely needing a gutter replacement. By staying ahead of the problems, you're preventing needing to invest in new gutters too soon. Some common gutter problems include; clogs, gutter cracks or holes, sagging, pulling away from your home, and more. It's important to stay on top of routine gutter maintenance and notify us when you notice any signs of gutter damage. We will inspect your gutters, and if we are able to repair them we will. If your gutters are beyond the point of repairing them and it would make more sense price-wise to replace them, then we will let you know. One thing that makes us stand out as a company is that we value our customers and we are honest with them. We wouldn't suggest something unless it was necessary. As long as your gutters still have life left in them, we will repair them. We also offer professional gutter installation and gutter guards.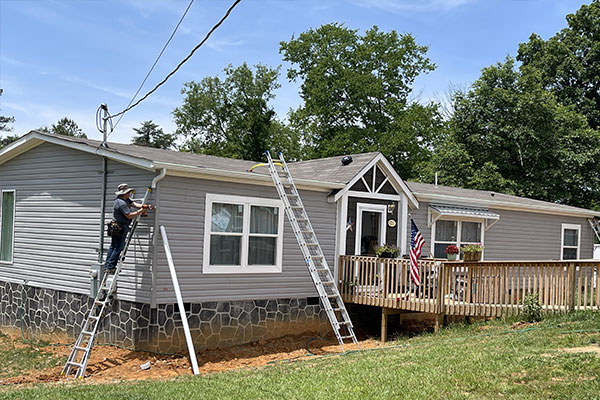 If You're Looking for Maryville Gutter Repair Services Near Me, Look No Further!
Gutter maintenance can be hard work; however, it doesn't have to be. While cleaning out your gutters and repairing them isn't glamorous, it's needed. The good news is you don't have to be the person that balances on a ladder while scooping out the debris from your gutters. Not only do homeowners dread doing this task, but it can also be dangerous. Anytime you get on a ladder, you risk falling and hurting yourself. With our gutter repair package, you no longer need to worry about doing this task yourself. Our gutter repair package includes:
Thoroughly cleaning out your gutters by scooping out the debris by hand and then flushing them with water. 

Ensuring that your gutters drain the way they should, by making sure they are leveled.

Resealing all of the seams in your gutter system.

Reinforcing your gutters so they sit as close to your house as possible by adding extra straps, hangers, and wedges.
Our rain gutter repair package is the perfect way to renew your gutters so they can continue doing the job they are intended to do which is to protect your home and roof from water damage. 
Call today for Rain Gutter Repair in Maryville, TN
While many homeowners try to go the route of DIY projects, repairing your gutters shouldn't be one of them. While some home projects are worth it to complete yourself, repairing your own gutters isn't worth it, especially if you don't have any experience when it comes to working with gutters. By repairing your own gutters in an attempt to save money, you risk causing more damage which could wind up costing you more in the long run. It can also be dangerous to repair them yourself. Not to mention, if you're unsure of what you're doing, a quick project could turn into a week-long one. Out of convenience and safety, it's best to leave this job for a gutter repair company. Our installers are equipped with the necessary equipment and products when performing your roof gutter repair service, and we will make sure that we complete it in a quick and safe manner so we can get out of your hair in a reasonable time frame. If you're still looking for Maryville gutter repair services near me, Gutter ON is here to make your decision easier.
Whenever anything around your home needs to be fixed, it can be stressful. It's not an ideal situation, but having your gutters repaired quickly is important in order to prevent water damage from happening to your home. When your gutters need to be repaired, one trusted company that you can count on is Gutter ON. We offer affordable and convenient gutter repair services to make this situation a little easier for you. Make sure that you get in contact with our team today to learn more about gutter repair in Maryville, TN, the other gutter services we offer, or for a fast and free quote!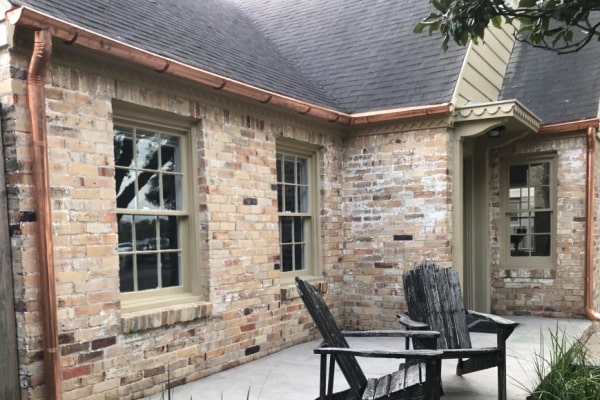 Ready To Have Perfectly Clean & Functioning Gutters?