Gutter Installation
Knoxville, TN
Searching for Knoxville Gutter Installation Near Me?
A properly functioning gutter system is necessary for your home and roof to get the protection they need and deserve. Gutters prevent basement flooding, protect your landscaping and foundation, and more. However, to reap all of the benefits that having gutters provides, your gutter system needs to be installed correctly. This is where we come in. At Gutter ON, we are a gutter company that provides high-quality rain gutter installation services in Knoxville, TN, and the surrounding areas. We have a team full of seasoned installers who will ensure that your gutters are installed correctly and promptly. If you are looking for Knoxville gutter installation near me, look no further. 
Are you in need of a Knoxville gutter company near me? Gutter ON could be the answer you're looking for. We are a local company that aims to provide our customers with an easy gutter installation process. We understand that any home project can be stressful, which is why we will make sure it goes as smoothly as possible. We hope to build trust with all of our customers and, over time, become your trusted company for all of your gutter needs, whether you need gutter guards installed, new gutters installed, your gutters cleaned, or gutter repairs. Whichever service you need, we can handle it! Call today for the top gutter installation Knoxville, TN has to offer!
Seamless Gutters Knoxville, TN Residents Trust
Gutters have one main purpose, which is to divert water away from your roof. If your home is currently without gutters or you need your current gutters replaced, you must have new gutters installed as soon as possible. By staying proactive with replacing your gutters when you need new ones, and having regular cleanings, and maintenance, you are preventing damage from occurring to your home and property. Neglecting your gutters could result in damages to your home and foundation that could bring you costly repairs and replacements sooner rather than later. If you notice any visible issues or signs that your current gutters show or if you're currently without gutters, our team will be able to provide you with a free quote. We will inspect your gutters and provide you with a fast quote and plan that is ideal for your specific needs. We also offer top-rated gutter repair in Knoxville and gutter guards in Knoxville!
If You're Looking for Knoxville Gutter Company Near Me, Look No Further!
One of our specialties at Gutter ON is installing seamless gutters in Knoxville, TN. Seamless gutters are installed as one continuous gutter system, which means that a solid piece of material will be custom-tailored to your home. Sectional gutters are as the name indicates, they are installed in sections. This means that they have visible seams between each gutter section. Seamless gutters don't have seams which naturally gives them a clean and sleek look. Even though this is a small detail, many homeowners appreciate this look. Since they also have fewer joints compared to sectional gutters, it will prevent debris from building up. This means that you won't have to clean out your gutters as much as you would with sectional gutters. However, even with seamless gutters, it's still important to not skip having them cleaned. Another advantage of seamless gutters is that they have a longer lifespan and are more durable than sectional gutters. With the proper maintenance and care, seamless gutters can provide your home and roof with the necessary protection they need for many years. With our seamless gutters, you will have a few style and color options to choose from. The colors you can choose from include; black, royal brown, and white. Whichever style or color you choose, you can rest assured knowing that you're getting the best gutter installation in Knoxville, TN.
Call Today for Rain Gutter Installation in Knoxville, TN
When searching for Knoxville gutter installation near me online, there are several companies out there but choosing the right one is essential. You could have the best products and gutters on the market, but it won't mean anything if they're installed incorrectly. We hope we can make the decision easy for you when searching for a reliable gutter company in your area. Our team is dedicated to giving you the best customer experience possible. We will make sure to get you on our schedule promptly, and we will show up to your appointment on time. During the process of installing your gutters, you can trust that we will handle your home and new gutter system with care. We also only use the best equipment and products when installing your gutters to ensure that you get the best results possible so you can get the absolute most out of your new gutter system. That is part of the reason we are the most trusted gutter company in the area.
For a gutter installation that you can count on, you need the right team in your corner. At Gutter ON, we are a licensed and insured gutter company that you can rely on to provide you with perfectly functioning gutters. For more information on our gutter installation services, and the other gutter services we offer in Knoxville, or for a free quote, make sure you get in touch with our team today!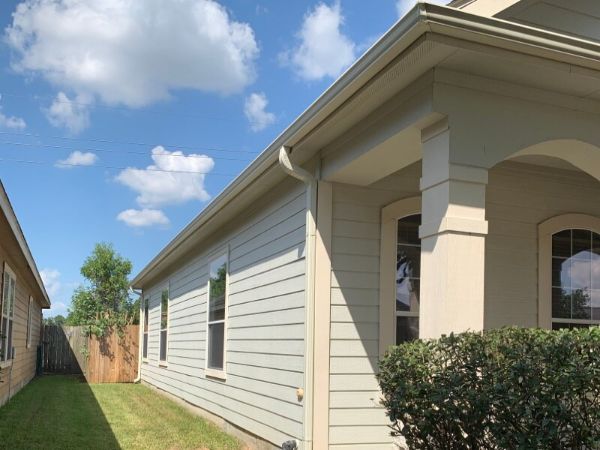 Ready To Have Perfectly Clean & Functioning Gutters?