Gutter Guards
Lenoir City, TN
Professional Leaf Guards Lenoir City, TN Residents Trust
Gutter guards are a protective cover that goes over your gutters to provide an extra layer of protection from debris. Your gutters are constantly dealing with leaves falling in, twigs, pine needles, acorns, and more. When large debris falls into your gutters, it puts your gutters at risk of becoming clogged. Gutter guards act almost like a strainer where they can filter the water through while leaving out the big debris from entering. By doing this, you are cutting down the number of gutter cleanings you'll need to do significantly. If you're interested in having gutter guards installed, the best gutter guard installation near me is Gutter ON.
At Gutter ON, we are a local gutter company that is dedicated to providing you with a convenient way to protect your gutter system. If you feel like gutter maintenance is difficult for you to keep up with, then gutter covers are a great option for you. Since gutter guards cut down the amount of maintenance you need to put in, they will also save you time and money over time. While you will still need to have your gutters cleaned on occasion, gutter guards make it exponentially easier to clean your gutters.
One of the Best Gutter Leaf Guards Lenoir City, TN Has to Offer
Once you've decided to get gutter guards installed, it's important to find a gutter company that you can trust to install them for you. Since there are several gutter guard installation companies online or in the area, it can be difficult to narrow down your search. At Gutter ON, we hope that we can make this an easier decision for you. Our services are affordable, reliable, convenient, and stress-free. We will arrive at your appointment on time and make sure that we complete the service within a decent time frame. Our team is skilled and experienced when it comes to installing gutter guards in Lenoir City, TN, which means that we will get your service completed correctly the first time around.
Our team offers three different gutter guards, which are some of the best on the market. Gutter guards need to perfectly fit your gutter system in order for it to function the way it should. Since every gutter system is unique, we wanted to include different products that will fit your gutter needs. One product that we proudly offer is RainDrop®. RainDrop® offers incredible advantages that are hard to pass up. They are affordable, versatile, strong, long-lasting, and more. They are built to handle any amount of rain, whether it sprinkles or downpours, and they are even capable of melting snow and ice naturally. They are extremely low maintenance, and if you're in need of gutter leaf guards in Lenoir City, TN, RainDrop® could be the answer for you.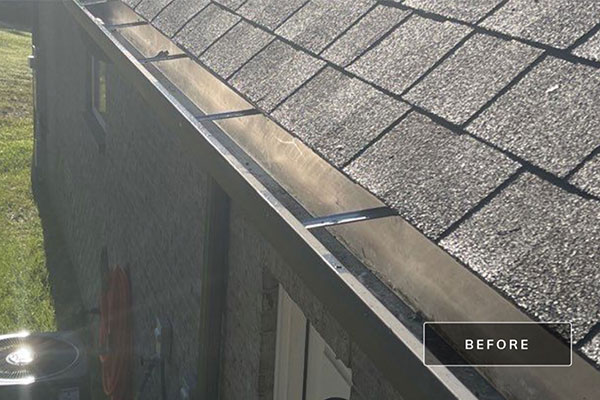 Leaf Guard Gutter Protection Lenoir City, TN Locals Rely On
Gutter guards have a long list of benefits, some benefits that you may not even think about. For instance, gutter guards prevent rust and corrosion. When wet leaves or debris sit in your gutters, the chance of rust or corrosion increases. Gutter guards keep out large debris like leaves, which means that they significantly decrease the chance of your gutters rusting. Gutter guards also prevent pest infestations. Pests are attracted to stagnant water, and they take that opportunity to make that area their breeding ground. Since gutter guards reduce the amount of stagnant water that sits in your gutters, it makes it more difficult for mosquitoes, cockroaches, and small rodents to thrive in your gutters. Leaf guard gutter protection in Lenoir City, TN, also creates a barrier that makes it difficult for birds to create nests in your gutter system. Nests can be a problem because they not only clog your gutters but can weigh them down. This can potentially cause your gutters to sag and cause structural issues with your gutters. Not to mention, pests and vermin can carry diseases, and if they have made your gutters their new home, it's putting your health at risk. Whether you have issues with birds or pests creating a new home within your gutters, you don't want to keep up with maintenance, or you are looking for a way to keep your gutters cleaner longer, gutter guards offer a solution that benefits everyone. We also offer top-rated gutter installation and gutter repair services.
Call Today for Top-Rated Gutter Guard Installation in Lenoir City, TN
While gutters are extremely important to have to protect your roof, it's important to have something to protect your gutters. Gutter guards are an easy and affordable way to protect your gutters and provide you with a low-maintenance option when caring for your gutters. Gutter ON is the name in the area that you can trust to provide you with a safe, effective, and easy gutter guard installation process. We also offer other gutter services like gutter repairs and new gutter installation services. To learn more about leaf guards in Lenoir City, TN, the other services we offer, or for a fast free quote, make sure you contact our team today!
Ready To Have Perfectly Clean & Functioning Gutters?